Home >> Products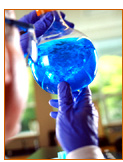 Our repertoire of products are in demand in numerous corporate houses due to their quality. We make sure that our clients get what they want, which makes our customized products appealing to them. We are famous in providing finest quality reclaim rubber. Reclaim rubber may not have properties comparable to virgin rubber. It still has tremendous opportunities in tyre and non-tyre rubber products. The properties of reclaim rubber are quite distinctive as it has certain favourable chemical properties and gives processing benefits to rubber compounds. Reclaimed rubber is made from crumb rubber. The most common rubber reclaiming process is described as follows :
Crumb rubber is mixed with water, oil, and chemicals which are expected to de-vulcanize the rubber.
The mixture is heated under pressure.
The resulting partially de-vulcanized rubber may be formed into slabs or bales and shipped to manufacturers who process and vulcanize the material with virgin rubber or plastic resin.

Our Products are: